Bio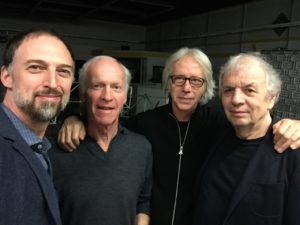 For over three decades OREGON has inspired audiences in renowned concert halls including Carnegie Hall, Lincoln Center, Berlin Philharmonic Hall, and Vienna's Mozartsaal; at international jazz clubs and major festivals such as Montreux, Pori, Berlin, Montreal, and Newport Jazz; and on tours throughout the U.S., Canada, Mexico, South America, Eastern and Western Europe, India, Pakistan, Nepal, Sri Lanka, Bangladesh, Algeria, and Australia.
OREGON began in 1960 at the University of Oregon with undergraduate students Ralph Towner and Glen Moore who formed a musical friendship on bass and piano inspired by Bill Evans and Scott LaFaro and later by Brazilian music. Moore earned a degree in history and literature and Towner completed his in composition, taking up guitar in the process. In the mid 60's, they both traveled to Europe. Towner studied classical guitar in Vienna with Karl Scheit; Moore studied classical bass in Copenhagen and sat in with such greats as Ben Webster and Dexter Gordon. By 1969, both were living in New York City, playing with a community of young musicians who formed the great fusion bands of the '70's including Weather Report and the Mahavishnu Orchestra.
Performing with folksinger Tim Hardin at the '69 Woodstock Festival, Towner and Moore encountered two members of the Paul Winter Consort who introduced them to the music of that group. In the studio with Hardin, Ralph and Glen connected with sitar and tabla player Collin Walcott. He was a graduate of Indiana University under George Gaber, studied ethnomusicology at UCLA and served as road manager for Ravi Shankar and Alla Rakha. On a break at that session, Ralph and Collin played their first guitar/sitar duet in the hallways of Columbia Studios.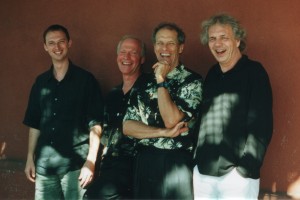 By 1970 Ralph, Glen, and Collin had joined the Paul Winter Consort for a 50-concert U.S. tour where they quickly formed an alliance with its oboist, Paul McCandless, who had studied at the Manhattan School of Music under Toscanini's first oboe player, Robert Bloom. During that initial tour, Ralph began composing a new repertoire of original material including "Icarus", which has since become a standard. The early development of OREGON took root in motel rooms and college dormitories where, in private jam sessions, Towner, Walcott,Moore and McCandless began investigating new musical possibilities after getting a taste of collective improvisation on tour with the Consort. Winter's group introduced them to the idea of performing concerts with uncommon combinations of instruments in an eclectic variety of musical styles. Incorporating these elements, OREGON emerged with a unique synthesis of European classical instrumentation, American jazz harmony, and ethnic influences from around the globe. The notion of recording their own music first arose at a party, where Towner and Walcott were entertaining friends in their guitar/sitar configuration. The group was offered the use of an 8-track studio in the Hollywood Hills, known as "The Farm." A short-lived independent label in Los Angeles subsidized six weeks of taping and mixing. The company did not succeed in selling the results to a major label and the tape went into storage for ten years before its Vanguard release on disc called—Our First Record.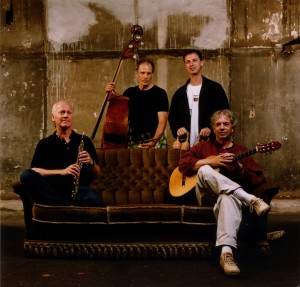 In 1971 the band made its debut in New York City, calling themselves Thyme—Music of Another Present Era, a phrase designed to answer the question. " What kind of music do you play?" McCandless later proposed the name "OREGON" alluding to Ralph and Glen's nostalgic reminiscences of their home state. The next year, Vanguard signed OREGON, recording a new set of original compositions which became the band's debut LP, Music of Another Present Era. In that same period, they made Trios and Solos for ECM, a new label in Europe. The Vanguard album introduced them to their American audience and through their association with ECM, they developed their European following with tours beginning in 1974 where they received critical acclaim and growing recognition in the international community.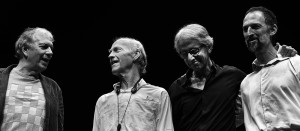 Six years and nine albums later, OREGON moved to Elektra/Asylum Records. Its first release on that label, Out of the Woods, reached a decidedly wider audience and was included in the 101 Best Jazz Albums list by Len Lyons. As the years spanned and the group's versatility grew, bass clarinet, soprano and sopranino saxes, ethnic flutes, flugelhorn, French horn, clarinet, dulcimer, electric bass, violin, viola, and a myriad of percussion instruments all found their way into OREGON's instrumentation which already included Towner's nylon and 12 string guitars and piano, McCandless' oboe and English horn, Moore's 1715 Klotz bass and Walcott's sitar and tablas.
At the end of OREGON's contract with Elektra, and with the birth of Collin Walcott's daughter in 1980, the band members took a year long sabbatical during which they pursued their individual solo careers. When they reassembled, OREGON's unique fusion gained an electric dimension through Towner's addition of keyboard synthesizers. The group recorded two more albums for ECM with the original personnel.
They had reached a peak of popularity when in November 1984, Walcott died in an auto accident in the former East Germany, leaving the ECM album Crossing as his final document. This left OREGON with the seemingly impossible task of filling an enormous vacuum. They reunited for the first time in May 1985 at a memorial concert for Walcott in New York where the dazzling Indian percussionist Trilok Gurtu joined them to pay tribute. Trilok, who studied tablas and jazz drumming, accepted an invitation to work with OREGON in 1986 which included a State Department tour of the Indian subcontinent. Over a five-year period, he played on three albums with the band: Ecotopia on ECM, 45th Parallel on Epic, and Always, Never, and Forever, the band's first recording on Intuition. After the departure of Gurtu, the three original members continued their creative development as a trio making two CDs—Troika and Beyond Words.


For the 1996 Intuition recording "Northwest Passage", the group incorporated two masterful percussionists, former Chicagoan Mark Walker and Arto Tuncboyician of Armenia. Walker, who also performs and records with Cuban expatriate Paquito D'Rivera, has become the new fourth member of OREGON and together with Towner, Moore, and McCandless traveled to Moscow in June 1999 to record the double CD for Intuition entitled "Oregon In Moscow." This project is the band's debut recording of their orchestral repertoire. Developing since the Winter Consort days, this prodigious body of work had been performed with the St. Paul, Philadelphia, Indianapolis, Stavanger, Freiburg, and Stuttgart Orchestras, but never documented. Oregon In Moscow, produced by Steve Rodby of the Pat Metheny Group fame, features the band members as composers, orchestrators, and soloists in collaboration with the Moscow Tchaikovsky Symphony Orchestra. In 2001 this album garnered four Grammy nominations. OREGON's most recent production, a live CD recorded during a spirited week at Yoshi's, San Francisco Bay Area's premier jazz club, was released in 2002. Not since 1980 has the group's electrifying and poignant performances been captured on tape.