Mark Walker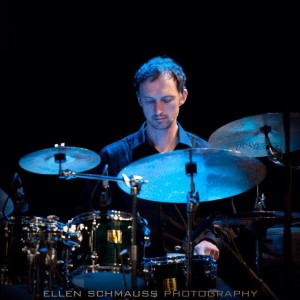 Mark Walker (b 1961 Chicago, IL) is one of the most versatile and musical drummers, composers and educators in the business. His long-standing relationships with artists such as Paquito D'Rivera (25 years) and the group Oregon (18 years) show his commitment to creating the music of the highest quality. He has played on over 60 albums, including five Grammy winning and nine Grammy nominated projects.
Walker has toured extensively and recorded with Lyle Mays, Michel Camilo, Eliane Elias, Cesar Camargo Mariano, Patricia Barber, the WDR Big Band, the Caribbean Jazz Project, Grace Kelly, Linda Eder, and Andy Narell, and has also performed live with Rosa Passos, Michael Brecker, Toninho Horta, Chucho Valdes, Filo Machado, Dianne Reeves, Regina Carter, James Ingram, Joao Bosco, and Leny Andrade. He appears in the Latin Jazz documentary "Calle 54"(Miramax) with Paquito D'Rivera and Dave Samuels.
As a composer, he was a recipient of a Grammy nomination for his composition "Deep Six", which appeared on the group Oregon's Grammy nominated recording "1000 Kilometers." He also wrote "What About That!" for the Paquito D'Rivera Quintet's Grammy Award winning CD "Funk Tango."
Walker is currently completing a solo album with a 9-piece ensemble, entitled "The Rhythm of the Americas Project", featuring his original modern jazz compositions in various Latin American styles.
As an educator, he was awarded the rank of Professor at Berklee College of Music, where he has taught since 2001, developing courses in South American and Caribbean rhythms. He is currently offering an independent online drum set course by subscription at www.markwalkerlessons.com. He is also the author of the instructional drum set book and CD "World Jazz Drumming" (Berklee Press/Hal Leonard).
He is a Yamaha, Paiste, Vic Firth, Remo and LP artist and endorser, and regularly performs and teaches around the globe.
His website is www.markwalkerdrums.com.