1000 Kilometers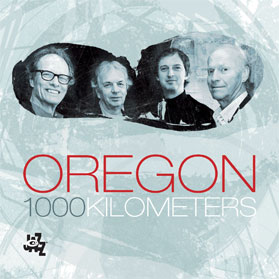 2002
1000 Kilometers
CAM5025
Track Listing:
Deep Six
From a Dream
Catching Up
1000 Kilometers
Bayonne
Simone
Free Imp
Back Pocket
Relentless Imp
Paraglide
The Bactrian
1000 Kilometers (reprise)
"1000 Kilometers" is the second album by Oregon for CAM Jazz and is the follow up to "Prime", the long awaited comeback album by this glorious group. For over 35 years, Oregon has been personifying their own way of making music, which is a natural meeting point between diverse sounds and equally diverse cultures.
The music by this American quartet is always one without boundaries, an adventurous fusion of jazz, chamber atmospheres, and folkloristic scents coming from various latitudes and longitudes.
But Oregon's music is also one where composition and improvisation find the right balance, in the depth of a profound melodic breath that in the course of time has remained one of the principle characteristics that distinguishes the group.
Most tracks on "1000 Kilometers" are newly written by guitarist Ralph Tower who also plays synth guitar, piano and keyboards. But there's space for tracks by the other members Paul McCandless, Glen Moore and Mark Walker, as well as for two collective improvisations. Walker writes the track that opens the CD, Deep Six, which genius melodic design rests on insistent rhythmic themes. The track From A Dream follows, a tasteful entr'acte of classical style, and Catching Up, another episode that encompasses the truest spirit of Ralph Towner and his partners. The long, evocative title track is dedicated, as is the entire album, to Thomas Stöwsand, manager and great friend of Oregon for more than 30 years. "1000 Kilometers" is a testimony of the rediscovered creative vein that has brought the group to express themselves on highly qualitative level.